Full Text of Paper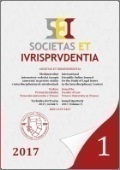 Read paper (PDF)
---
Source Type: Journal
Document Type: Study
Document Language: Slovak
Published on: 31. 3. 2017
File Format: PDF
File Size: 789 kB
Jozef Zámožík
In: Societas et iurisprudentia • 2017 • Volume 5 • Issue 1 • Pages 120-141 • ISSN 1339-5467
Abstract: One of the reflections of the social function of law is the preference of amicable dispute resolution. Arbitral settlement proceeding (conciliation in arbitration) is little known and marginally regulated by law. This juridical institute contributes to the amicable dispute resolution. It is connected with legal regulation of arbitral award on agreed terms that records the settlement. It means an alternative form of resolution of private disputes. The paper deals with the theoretical and practical legal aspects of the settlement concluded in arbitration and with the arbitration award on agreed terms that such settlement records – in particular legal regime, form, content, and effects of the arbitral award.
Key Words: Settlement Proceedings; Settlement; Arbitral Award on Agreed Terms; Arbitral Award by Consent; Consent Award; Agreed Award; Arbitration; the Slovak Republic.
URL: http://sei.iuridica.truni.sk/archive/2017/01/SEI-2017-01-Studies-Zamozik-Jozef.pdf
Bibliographic Citation
ZÁMOŽÍK, J. Zmier v rozhodcovskom konaní. Societas et iurisprudentia [online]. 2017, vol. 5, no. 1, pp. 120-141 [cit. 2020-01-01]. ISSN 1339-5467. Available at: http://sei.iuridica.truni.sk/international-scientific-journal/archive/issue-2017-01/settlement-in-arbitration/.