Full Text of Paper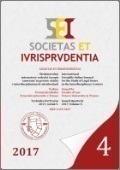 Read paper (PDF)
---
Source Type: Journal
Document Type: Study
Document Language: Slovak
Published on: 31. 12. 2017
File Format: PDF
File Size: 665 kB
Andrea Olšovská – Marianna Novotná
In: Societas et iurisprudentia • 2017 • Volume 5 • Issue 4 • Pages 42-59 • ISSN 1339-5467
Abstract: Withdrawal from contract as well as termination by notice is a civil law mechanism, realisation of which leads to termination of the affected contractual relationship. In spite of standard functioning of the above-mentioned instruments within particular fields of private law, there is no unambiguous and problem-free understanding of the scope and the content of their application in the labour contractual relationships. Uncertainties arise, in particular, in relation to the question of the extent to which such kind of termination of labour contractual relationship is permissible on the basis of general grounds for rescission of contract or for termination by notice governed by civil law rules of the Civil Code as a fundamental act of general private law.
Key Words: Labour Law; Civil Law; Subsidiarity; Withdrawal from Contract; Termination by Notice; the Slovak Republic.
URL: http://sei.iuridica.truni.sk/archive/2017/04/SEI-2017-04-Studies-Olsovska-Andrea-Novotna-Marianna.pdf
Bibliographic Citation
OLŠOVSKÁ, A. and M. NOVOTNÁ. Odstúpenie a výpoveď vo vzťahu k pracovnoprávnym zmluvám a dohodám. Societas et iurisprudentia [online]. 2017, vol. 5, no. 4, pp. 42-59 [cit. 2020-01-01]. ISSN 1339-5467. Available at: http://sei.iuridica.truni.sk/international-scientific-journal/archive/issue-2017-04/rescission-of-contract-and-termination-by-notice-concerning-labour-law-relations/.