Full Text of Paper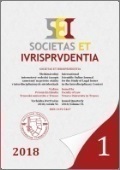 Read paper (PDF)
---
Source Type: Journal
Document Type: Study
Document Language: Slovak
Published on: 31. 3. 2018
File Format: PDF
File Size: 687 kB
Adrián Jalč
In: Societas et iurisprudentia • 2018 • Volume 6 • Issue 1 • Pages 58-70 • ISSN 1339-5467
Abstract: The paper deals with the most common crime in the Slovak Republic – theft, with a special focus laid on burglary. The emphasis is put on a detailed definition of the criminal offense of theft by the currently valid legislation, with reference to the practical examples, the case law and the amount of punishment itself for the offenders of this crime.
Key Words: Criminal Law; Offence; Theft; Culpability; Theft by Burglary; Damage; Case Law; the Slovak Republic.
URL: http://sei.iuridica.truni.sk/archive/2018/01/SEI-2018-01-Studies-Jalc-Adrian.pdf
Bibliographic Citation
JALČ, A. Trestný čin krádeže z pohľadu justičnej praxe. Societas et iurisprudentia [online]. 2018, vol. 6, no. 1, pp. 58-70 [cit. 2020-01-01]. ISSN 1339-5467. Available at: http://sei.iuridica.truni.sk/international-scientific-journal/archive/issue-2018-01/crime-of-theft-from-the-judicial-practice-point-of-view/.