Full Text of Paper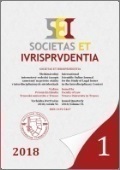 Read paper (PDF)
---
Source Type: Journal
Document Type: Study
Document Language: Slovak
Published on: 31. 3. 2018
File Format: PDF
File Size: 856 kB
Milan Boroš
In: Societas et iurisprudentia • 2018 • Volume 6 • Issue 1 • Pages 143-172 • ISSN 1339-5467
Abstract: In the paper, the author pays attention to the relationship of two criminal law institutes that find their legal anchor in the grounds of the criminal liability regulated by the Slovak Criminal Code. Their legal forms are quite laconic and, as a result, they are not entirely able to offer explicit answers to a number of issues that exist in the legal practice. Fault is a prerequisite for criminal liability of any single natural person, irrespective of whether the offence was committed by an individual or by several participants, but with a pluralist participation, it takes on a slightly different dimension. This dimension, therefore, the author attempts to outline in the presented paper while analysing it in the theoretical-methodological context and, partially, also from the historical-legal point of view.
Key Words: Criminal Law; Crime; Culpability; Participation; Complicity; Support; Cue; Order; Organisation; the Slovak Republic.
URL: http://sei.iuridica.truni.sk/archive/2018/01/SEI-2018-01-Studies-Boros-Milan.pdf
Bibliographic Citation
BOROŠ, M. Zavinenie pri účastníctve na trestnom čine. Societas et iurisprudentia [online]. 2018, vol. 6, no. 1, pp. 143-172 [cit. 2020-01-01]. ISSN 1339-5467. Available at: http://sei.iuridica.truni.sk/international-scientific-journal/archive/issue-2018-01/culpability-in-criminal-participation/.