Full Text of Paper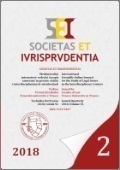 Read paper (PDF)
---
Source Type: Journal
Document Type: Study
Document Language: Slovak
Published on: 30. 6. 2018
File Format: PDF
File Size: 714 kB
Daniela Hlobíková
In: Societas et iurisprudentia • 2018 • Volume 6 • Issue 2 • Pages 124-144 • ISSN 1339-5467
Abstract: The author examines the possibilities of applying the general legal principle of the European law – the principle of equality (in other words, the principle of non-discrimination) in the horizontal legal relations between the business entities. The answer to the question whether the principle applies to the B2B relationships is conditioned by identifying the content of that legal principle and by determining its applicability to the private law relationships. The author also deals with the related issue of non-discrimination in the competition law.
Key Words: The European Union Law; General Legal Principle; Non-discrimination; B2B Relationships.
URL: http://sei.iuridica.truni.sk/archive/2018/02/SEI-2018-02-Studies-Hlobikova-Daniela.pdf
Bibliographic Citation
HLOBÍKOVÁ, D. Zásada zákazu diskriminácie v B2B vzťahoch. Societas et iurisprudentia [online]. 2018, vol. 6, no. 2, pp. 124-144 [cit. 2020-01-01]. ISSN 1339-5467. Available at: http://sei.iuridica.truni.sk/international-scientific-journal/archive/issue-2018-02/the-principle-of-non-discrimination-in-b2b-relationships/.