Full Text of Paper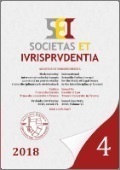 Read paper (PDF)
---
Source Type: Journal
Document Type: Study
Document Language: Slovak
Published on: 31. 12. 2018
File Format: PDF
File Size: 665 kB
Stanislav Mihálik – Monika Miháliková
In: Societas et iurisprudentia • 2018 • Volume 6 • Issue 4 • Pages 135-150 • ISSN 1339-5467
Abstract: The authors focus their presented paper on the relatively unconventional connection between the criminal law and labour law sectors. At the question of serving the imprisonment sentence they look through the ways and means of treatment with convicted persons in general; in particular they concentrate on the question of the assignment of convicted persons to work. The authors analyse the issue in question from the perspective of criminal law and penology, while focusing their attention particularly on specificities and statistical indicators in this field. The view of labour law is mainly applied at the level of possible identification of the features of dependent labour in the sense of perception of the Labour Code in the context of the assignment of convicted persons to work. The analytical part of the paper is completed with a practical part in which they try not only to identify the weaknesses of the legislation, but bring also their own proposals de lege ferenda.
Key Words: Criminal Law; Labour Law; Convicted Person; Accused Person; Serving the Imprisonment Sentence; Dependent Work; Employee; Employer; Ways and Means of Treatment; the Slovak Republic.
URL: http://sei.iuridica.truni.sk/archive/2018/04/SEI-2018-04-Studies-Mihalik-Stanislav-Mihalikova-Monika.pdf
Bibliographic Citation
MIHÁLIK, S. and M. MIHÁLIKOVÁ. Povaha pracovnej činnosti odsúdených vo výkone trestu odňatia slobody. Societas et iurisprudentia [online]. 2018, vol. 6, no. 4, pp. 135-150 [cit. 2020-01-01]. ISSN 1339-5467. Available at: http://sei.iuridica.truni.sk/international-scientific-journal/archive/issue-2018-04/character-of-working-activity-of-convicted-persons-serving-the-imprisonment-sentence/.