Full Text of Paper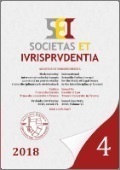 Read paper (PDF)
---
Source Type: Journal
Document Type: Study
Document Language: Slovak
Published on: 31. 12. 2018
File Format: PDF
File Size: 768 kB
Peter Matuška – Mária T. Patakyová
In: Societas et iurisprudentia • 2018 • Volume 6 • Issue 4 • Pages 76-96 • ISSN 1339-5467
Abstract: The paper concentrates on the issue of climate refugees which will play vital role in the future. Climate changes, population growth and the consequent conflicts will become the main threats for the whole Europe. The paper deals with a real case from New Zealand, the Teitiota case, which suggests several problems with climate refugees. When applied to the European Union, the case shows the absence of legal framework in this field within the European Union. It also predicts the insufficiency of individual interventions on the level of national states and, consequently, the inevitable need of a supra-national solution for this overlooked problem.
Key Words: International Public Law; Climate Refugees; Teitiota Case; Directive 2011/95/EU of the European Parliament and of the Council of 13 December 2011 on Standards for the Qualification of Third-country Nationals or Stateless Persons as Beneficiaries of International Protection, for a Uniform Status for Refugees or for Persons Eligible for Subsidiary Protection, and for the Content of the Protection Granted; New Zealand; Kiribati; the European Union.
URL: http://sei.iuridica.truni.sk/archive/2018/04/SEI-2018-04-Studies-Matuska-Peter-Patakyova-Maria-T.pdf
Bibliographic Citation
MATUŠKA, P. and M. T. PATAKYOVÁ. Klimatickí utečenci a ich právne postavenie v kontexte medzinárodného práva verejného a práva Európskej únie. Societas et iurisprudentia [online]. 2018, vol. 6, no. 4, pp. 76-96 [cit. 2020-01-01]. ISSN 1339-5467. Available at: http://sei.iuridica.truni.sk/international-scientific-journal/archive/issue-2018-04/climate-refugees-and-their-legal-status-in-the-context-of-international-public-law-and-the-european-union-law/.