Full Text of Paper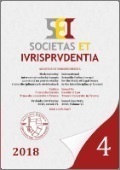 Read paper (PDF)
---
Source Type: Journal
Document Type: Study
Document Language: Slovak
Published on: 31. 12. 2018
File Format: PDF
File Size: 693 kB
Jan Horecký – Marek Švec – Adam Madleňák
In: Societas et iurisprudentia • 2018 • Volume 6 • Issue 4 • Pages 21-36 • ISSN 1339-5467
Abstract: The scientific paper deals with the issue of a new definition of the collective dispute over the fulfilment of obligations that do not give rise to claims to individual employees. The current practice changes the established legal definition of the collective dispute as defined in the Paragraph 10 of the Slovak Collective Bargaining Act and makes its future usage outdated. Based on available professional literature and own practical experiences, the authors point to a maladministration of public authorities in its usage and to the resulting legal consequences in the form of a threat to the employees' labour law protection.
Key Words: Labour Law; Employer; Employee; Collective Agreement; Collective Dispute; Labour Protection; the Slovak Republic.
URL: http://sei.iuridica.truni.sk/archive/2018/04/SEI-2018-04-Studies-Horecky-Jan-Svec-Marek-Madlenak-Adam.pdf
Bibliographic Citation
HORECKÝ, J., M. ŠVEC and A. MADLEŇÁK. Spor o plnenie záväzkov kolektívnej zmluvy, z ktorých nevznikajú nároky jednotlivým zamestnancom. Societas et iurisprudentia [online]. 2018, vol. 6, no. 4, pp. 21-36 [cit. 2020-01-01]. ISSN 1339-5467. Available at: http://sei.iuridica.truni.sk/international-scientific-journal/archive/issue-2018-04/dispute-over-fulfilment-of-collective-agreement-obligations-which-do-not-result-in-arising-claims-to-individual-employees/.