Full Text of Paper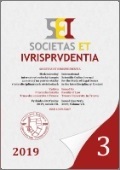 Read paper (PDF)
---
Source Type: Journal
Document Type: Study
Document Language: Czech
Published on: 30. 9. 2019
File Format: PDF
File Size: 701 kB
Martin Štefko
In: Societas et iurisprudentia • 2019 • Volume 7 • Issue 3 • Pages 49-63 • ISSN 1339-5467
Abstract: Lump-sums payments are used as a touchstone to consider current statutory rules on extra payments for services which were performed outside scheduled work hours, rendered on Saturdays or Sundays or done throughout nights. In his paper, the author claims that respective rules are morally ambiguous and legally complex. They seem to privilege trade unions to harm non-unionized workers. However, trade unions are not able to secure their financial interests as well; they cannot opt out "free riders".
Key Words: Labour Law; Labour Code; Wage; Statutory Bonuses; Freedom to Shape Contract; the Czech Republic.
URL: http://sei.iuridica.truni.sk/archive/2019/03/SEI-2019-03-Studies-Stefko-Martin.pdf
Bibliographic Citation
ŠTEFKO, M. Autonomie smluvní vůle na příkladu paušalizace příplatků v kolektivní smlouvě. Societas et iurisprudentia [online]. 2019, vol. 7, no. 3, pp. 49-63 [cit. 2020-01-01]. ISSN 1339-5467. Available at: http://sei.iuridica.truni.sk/international-scientific-journal/archive/issue-2019-03/freedom-to-shape-the-language-of-collective-agreement-analysed-on-a-case-of-sum-payments/.