Full Text of Paper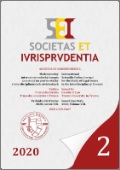 Read paper (PDF)
---
Source Type: Journal
Document Type: Study
Document Language: Slovak
Published on: 30. 6. 2020
File Format: PDF
File Size: 741 kB
Katarína Skolodová
In: Societas et iurisprudentia • 2020 • Volume 8 • Issue 2 • Pages 116-135 • ISSN 1339-5467
Abstract: Psychosocial risks are currently undesirable, but nevertheless a common part of the working environment. The consequences of a long-term exposure to their influence are felt by both the employee and the employer. In her paper, the author will try to identify and to define the most commonly occurring psychosocial risks, while pointing out the need for preventive measures which the European Union and international organizations consider to be the best means of protecting the mental health of workers. The subject of the paper is also the definition of the possibilities of protection of employees against psychosocial risks in the workplace which are regulated in the legislation of the Slovak Republic.
Key Words: Labour Law; Psychosocial Risks; Prevention; Mental Health; Work Environment; the Slovak Republic.
ORCID:

https://orcid.org/0000-0003-0794-367X
DOI: https://doi.org/10.31262/1339-5467/2020/8/2/116-135
URL: http://sei.iuridica.truni.sk/archive/2020/02/SEI-2020-02-Studies-Skolodova-Katarina.pdf
Bibliographic Citation
SKOLODOVÁ, K. Ochrana zamestnancov pred psychosociálnymi rizikami na pracovisku. Societas et iurisprudentia [online]. 2020, vol. 8, no. 2, pp. 116-135 [cit. 2020-01-01]. ISSN 1339-5467. Available at: https://doi.org/10.31262/1339-5467/2020/8/2/116-135.