Lenka Scheu – Martin Štefko
Full Text of Paper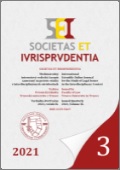 Read paper (PDF)
---
Source Type: Journal
Document Type: Study
Document Language: Czech
Published on: 30. 9. 2021
File Format: PDF
File Size: 676 kB
In: Societas et iurisprudentia • 2021 • Volume 9 • Issue 3 • Pages 19-36 • ISSN 1339-5467
Abstract: This paper deals with medical examination of employee's ability to work. Although from a legislative-technical point of view, this regulation is considered to be successful, in practice it causes major problems in the area of assessment care, which is evidenced in particular by the case law. Referencing to practice, we can state that the idea of the occupational health services provider as professional assistant of the employer in providing for the protection of employees' occupational health has not taken hold at all. Employers justifiably ask why they should pay for a medical report giving them no legal certainty. Employers, on the other hand, want to pay for services that give them a solid basis for further action against employees. From the analysed regulations, it is clear that the issue of health assessment and medical reports remains in some respects still gaping, both in terms of the nature of the medical report and in terms of accepting the lack of work capacity of providers of occupational health services.
Key Words: Labour Law; Ability to Work; Medical Certificate; the Czech Republic.
ORCID:

https://orcid.org/0000-0001-9375-2604
ORCID:

https://orcid.org/0000-0003-1060-6682
DOI: https://doi.org/10.31262/1339-5467/2021/9/3/19-36
URL: http://sei.iuridica.truni.sk/archive/2021/03/SEI-2021-03-Studies-Scheu-Lenka-Stefko-Martin.pdf
Bibliographic Citation
SCHEU, L. and M. ŠTEFKO. Dílčí náměty ke zlepšení právní úpravy posuzování způsobilosti k práci. Societas et iurisprudentia [online]. 2021, vol. 9, no. 3, pp. 19-36 [cit. 2020-01-01]. ISSN 1339-5467. Available at: https://doi.org/10.31262/1339-5467/2021/9/3/19-36.