Štefan Zeman
Full Text of Paper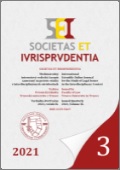 Read paper (PDF)
---
Source Type: Journal
Document Type: Study
Document Language: Slovak
Published on: 30. 9. 2021
File Format: PDF
File Size: 949 kB
In: Societas et iurisprudentia • 2021 • Volume 9 • Issue 3 • Pages 37-77 • ISSN 1339-5467
Abstract: The paper deals with the issue of suicide and assisted suicide, especially its ethical, criminal law and canon law evaluation. In the first chapter, the author explains what needs to be perceived under these terms and how they differ from euthanasia, offers current statistics on suicides in the Slovak Republic and discusses basic types of suicides, evaluates the issue of the right to life from an ethical point of view and criticizes the concept of the "right to death". He concludes that the possible legalization of assisted suicide and euthanasia would have widespread negative consequences. The second chapter of the paper is based on the constitutional guarantees of the right to life, which is also supported by the international obligations of the Slovak Republic in this area. Subsequently, it offers a criminal analysis of suicide and assisted suicide in the Slovak legal system. In the last, third chapter, the author finally discusses the issue from the perspective of the doctrine, law and practice of the Catholic Church.
Key Words: Criminal Law; Canon Law; Suicide; Assisted Suicide; Euthanasia; Right to Life; Human Dignity; European Court of Human Rights; Criminal Code; Crime of Participation in Suicide; Magisterium of the Catholic Church; Code of Canon Law; Grave Sin; the Slovak Republic.
ORCID:

https://orcid.org/0000-0001-7637-2618
DOI: https://doi.org/10.31262/1339-5467/2021/9/3/37-77
URL: http://sei.iuridica.truni.sk/archive/2021/03/SEI-2021-03-Studies-Zeman-Stefan.pdf
Bibliographic Citation
ZEMAN, Š. Samovražda a asistovaná samovražda v trestnom a kánonickom práve. Societas et iurisprudentia [online]. 2021, vol. 9, no. 3, pp. 37-77 [cit. 2020-01-01]. ISSN 1339-5467. Available at: https://doi.org/10.31262/1339-5467/2021/9/3/37-77.