Martin Štefko
Full Text of Paper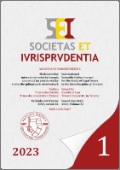 Read paper (PDF)
---
Source Type: Journal
Document Type: Study
Document Language: Czech
Published on: 31. 3. 2023
File Format: PDF
File Size: 715 kB
In: Societas et iurisprudentia • 2023 • Volume 11 • Issue 1 • Pages 50-66 • ISSN 1339-5467
Abstract: The aim of this paper is to analyse the appropriateness of the legislative regulation of the protection of a member of an independent administrative body exercising public oversight over a certain agenda or institution in the event that it makes an illegal or factually incorrect decision, in terms of the practical problems that this regulation raises. Put simply, it is a question of who is watching the watchdog. If the gatekeeper is complicit in an illegal decision or maladministration, who will drive him or her to seek justice? And is the protection of the holder of a public office sufficient? The research will be conducted on an illegal decision of the Czech Television Council that has been subject to judicial review by the Czech administrative courts.
Key Words: Labour Law; Object of Labour Law; Dependent Work; Exercise of Public Post; the Czech Republic.
ORCID:

https://orcid.org/0000-0003-1060-6682
DOI: https://doi.org/10.31262/1339-5467/2023/11/1/50-66
URL: http://sei.iuridica.truni.sk/archive/2023/01/SEI-2023-01-Studies-Stefko-Martin.pdf
Bibliographic Citation
ŠTEFKO, M. Odpovědnost vykonavatele veřejné funkce v nezávislém orgánu za nezákonné rozhodnutí, na příkladu Rady České televize. Societas et iurisprudentia [online]. 2023, vol. 11, no. 1, pp. 50-66 [cit. 2020-01-01]. ISSN 1339-5467. Available at: https://doi.org/10.31262/1339-5467/2023/11/1/50-66.