Full Text of Paper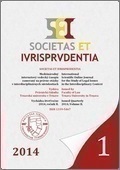 Read paper (PDF)
---
Source Type: Journal
Document Type: Study
Document Language: Slovak
Published on: 31. 3. 2014
File Format: PDF
File Size: 771 kB
Marianna Novotná – Martina Uhliarová
In: Societas et iurisprudentia • 2014 • Volume 2 • Issue 1 • Pages 106-130 • ISSN 1339-5467
Abstract: The aim of this study is to point out the mutual interaction of procedural rules for determining jurisdiction of courts, to point out the effects of mutual confrontation of these rules as well as to point out other procedural questions closely related to the specifics of nuclear legislation (e.g. standing of subjects) from the perspective of the Slovak court as a court entitled to act. Taking into account particularly the national procedural connotation of the nuclear liability issue, and regarding to the considerable complexity of international rules for determining jurisdiction of courts whose solution goes beyond the scope of this paper, the procedural rules of the international nuclear conventions will be analyzed only to the extent which is necessary for the purpose of determining the jurisdiction of the Slovak courts. For similar reasons, only marginal attention will be given to the Brussels I Regulation as the relationship of the rules contained in the regulation to the nuclear legislation of contracting and non-contracting states of nuclear liability regimes requires a separate analysis.
Key Words: Liability for Nuclear Damage; Vienna Convention on Civil Liability for Nuclear Damage; Protocol to Amend the 1963 Vienna Convention; Authorizing Decision; Brussels I Regulation; Jurisdiction of Courts; Causal Material Jurisdiction.
URL: http://sei.iuridica.truni.sk/archive/2014/01/SEI-2014-01-Studies-Novotna-Marianna-Uhliarova-Martina.pdf
Bibliographic Citation
NOVOTNÁ, M. and M. UHLIAROVÁ. Procesnoprávne aspekty zodpovednosti za jadrovú škodu. Societas et iurisprudentia [online]. 2014, vol. 2, no. 1, pp. 106-130 [cit. 2020-01-01]. ISSN 1339-5467. Available at: http://sei.iuridica.truni.sk/international-scientific-journal/archive/issue-2014-01/procedural-aspects-of-liability-for-nuclear-damage/.