Full Text of Paper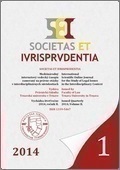 Read paper (PDF)
---
Source Type: Journal
Document Type: Study
Document Language: Slovak
Published on: 31. 3. 2014
File Format: PDF
File Size: 772 kB
Natália Matkovčíková
In: Societas et iurisprudentia • 2014 • Volume 2 • Issue 1 • Pages 186-196 • ISSN 1339-5467
Abstract: Work injury belongs to the long-monitored economic indicators not only in business but also in the whole society, because it affects the lives of not only all by the trauma affected individuals but also of their families and it ultimately affects the performance of the whole economy. To the sphere of professions which can generally be considered to be mentally and physically demanding, includes above all the construction industry. The paper discusses the specific psychological conditions, contexts and consequences of work injuries recorded by this work. The paper was created within the project VEGA 1/0053/12.
Key Words: Injuries; Work Injuries; Sustainable Development; Small and Medium-Sized Enterprises; Construction Industry; the Slovak Republic.
URL: http://sei.iuridica.truni.sk/archive/2014/01/SEI-2014-01-Studies-Matkovcikova-Natalia.pdf
Bibliographic Citation
MATKOVČÍKOVÁ, N. Pracovná úrazovosť v malých a stredných podnikoch v Slovenskej republike. Societas et iurisprudentia [online]. 2014, vol. 2, no. 1, pp. 186-196 [cit. 2020-01-01]. ISSN 1339-5467. Available at: http://sei.iuridica.truni.sk/international-scientific-journal/archive/issue-2014-01/work-injuries-in-small-and-medium-sized-enterprises-in-the-slovak-republic/.