Full Text of Paper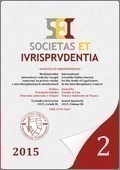 Read paper (PDF)
---
Source Type: Journal
Document Type: Study
Document Language: Czech
Published on: 30. 6. 2015
File Format: PDF
File Size: 687 kB
Marie Sciskalová – Soňa Harasimová
In: Societas et iurisprudentia • 2015 • Volume 3 • Issue 2 • Pages 46-56 • ISSN 1339-5467
Abstract: The study is focused on training of the local self-government officials. The intention was to highlight the law regulation which sets conditions for further education of officials as well as for contributing to the acquisition of additional knowledge and skills in public administration. The aim of the empirical part was to determine the occupational structure of the new local self-government officials, the length of their practice, and whether experiences learned in previous jobs can be applied in the exercise of the state administration. A partial aim was to evaluate the benefit of the general training course to obtain a certificate of special professional competence of officials which is regulated by the Act No. 312/2002 Coll. of Officials of Municipalities and Amended of the Law.
Key Words: Official Authority; Administrative Authority; Control; Municipality; County; Election; Citizen; Decision-Making; Law; Duty; Education; Responsibility; the Czech Republic.
URL: http://sei.iuridica.truni.sk/archive/2015/02/SEI-2015-02-Studies-Sciskalova-Marie-Harasimova-Sona.pdf
Bibliographic Citation
SCISKALOVÁ, M. and S. HARASIMOVÁ. Vzdělávání úředníků územních samosprávných celků. Societas et iurisprudentia [online]. 2015, vol. 3, no. 2, pp. 46-56 [cit. 2020-01-01]. ISSN 1339-5467. Available at: http://sei.iuridica.truni.sk/international-scientific-journal/archive/issue-2015-02/education-of-local-self-government-officials/.