Full Text of Paper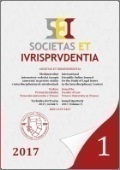 Read paper (PDF)
---
Source Type: Journal
Document Type: Study
Document Language: Slovak
Published on: 31. 3. 2017
File Format: PDF
File Size: 762 kB
Kristián Blaškovič
In: Societas et iurisprudentia • 2017 • Volume 5 • Issue 1 • Pages 97-119 • ISSN 1339-5467
Abstract: The status of women in international affairs has considerably changed during the last years. In this regard, the Resolution of the United Nations Security Council 1325 (2000) seems to be path breaking, as it was the first which addressed the problem of sexual violence committed on girls and women during armed conflicts. Later, the United Nations Security Council began to deal with women not just only as victims, but also as active players in security affairs and this led to calls for increased deployment of women in the peacekeeping operations. The presented paper deals with the role that women can play in these missions. The aim of their deployment is not just only to promote women's equality, but also to counter the problem of sexual abusement committed by male peacekeepers. Moreover, women can significantly contribute to earning the confidence of local women, as only they are able to understand and to address their problems. Despite the fact that women can be very successful in fulfilling the mission's mandate, they are still deployed only in limited numbers.
Key Words: International Law; Women; Status of Women in International Law; Gender Equality; Peacekeeping Missions; United Nations Security Council.
URL: http://sei.iuridica.truni.sk/archive/2017/01/SEI-2017-01-Studies-Blaskovic-Kristian.pdf
Bibliographic Citation
BLAŠKOVIČ, K. Postavenie žien v medzinárodnom práve – rodová rovnosť v mierových misiách Organizácie Spojených národov. Societas et iurisprudentia [online]. 2017, vol. 5, no. 1, pp. 97-119 [cit. 2020-01-01]. ISSN 1339-5467. Available at: http://sei.iuridica.truni.sk/international-scientific-journal/archive/issue-2017-01/status-of-women-in-international-law-gender-equality-in-the-united-nations-peacekeeping/.