Full Text of Paper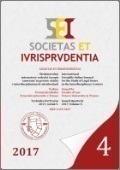 Read paper (PDF)
---
Source Type: Journal
Document Type: Study
Document Language: Czech
Published on: 31. 12. 2017
File Format: PDF
File Size: 783 kB
Gabriela Halířová
In: Societas et iurisprudentia • 2017 • Volume 5 • Issue 4 • Pages 102-123 • ISSN 1339-5467
Abstract: The author reflects on the purpose of coordination between social security systems of the countries of the European Union and of relationship of coordination of social security with the free movement of persons as one of the fundamental cornerstones of the European Union. The coordination of social security enables the individuals to move within the European Union and their relatives to acquire the right to performance of welfare benefits in case of social event or to fulfilment of conditions for material welfare outside the country of their residence or the country of insurance. The paper deals with one of the basic principles of the coordination of social security – single insurance principle (application of single body of laws) and with the most significant deviation in the lex loci laboris – temporary secondment of the employees. Another deviation is laid down in the case of the performance of gainful employment in two or more states of the European Union. The determination of body of laws legal relation of social security of particular person will be regulated by is fundamental for the payment of premium, fulfilment of conditions for material welfare and granting benefits.
Key Words: Social Security Law; Temporary Secondment; Employees; Self-employed Persons; Applicability of Legal Regulations of Social Security of Single State of the European Union; lex loci laboris; Office of the Employer; Coordination of Social Security; Performance of Essential Activities of the Employer in the State of Temporary Secondment of the Employee; the European Union; the Czech Republic.
URL: http://sei.iuridica.truni.sk/archive/2017/04/SEI-2017-04-Studies-Halirova-Gabriela.pdf
Bibliographic Citation
HALÍŘOVÁ, G. Dočasné vyslání zaměstnanců do Evropské unie z pohledu práva sociálního zabezpečení. Societas et iurisprudentia [online]. 2017, vol. 5, no. 4, pp. 102-123 [cit. 2020-01-01]. ISSN 1339-5467. Available at: http://sei.iuridica.truni.sk/international-scientific-journal/archive/issue-2017-04/temporary-secondment-of-employees-to-the-european-union-in-terms-of-social-security-law/.