Andrei Zarafiu
Úplný text príspevku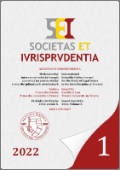 Čítať príspevok (PDF)
---
Typ dokumentu: časopis
Typ príspevku: štúdia
Jazyk príspevku: angličtina
Publikované: 31. 3. 2022
Formát súboru: PDF
Veľkosť súboru: 667 kB
In: Societas et iurisprudentia • 2022 • ročník 10 • číslo 1 • strany 36-49 • ISSN 1339-5467
Abstract: The judicial process of making decision in criminal cases is, generally speaking, increasingly analysed within a complex framework, one of these being harmonized with principles, and concepts organized along with the forensic activities of investigation. To this regard, the Romanian judicial activity in criminal cases is not away from these values of respecting standards in criminal proceedings. This situation is particularly viewed during the judgment phase of criminal proceedings at the stage of making decision. Taking into consideration all these aspects, the current paper is focused on the best practices of the activity of decision making in criminal cases in Romania, particular attention being paid to the forensic science and the way in which it influences the process of achieving decision in the framework of administering and assessing evidence based on forensic activity of investigation. An in-depth analysis of both the doctrine trends and the case-law presentation on the topic of decision making in criminal proceedings within the forensic framework in Romania will be presented, as well as the case-law remarks and comments of this topic. The idea of this paper was conducted by the fact that several criminal cases are usually solved by taking into account the involvement of forensic investigation records of gathering evidence which help judicial bodies in making decision in criminal proceedings.
Key Words: Criminal Law; Criminal Procedure Law; Criminal Matters; Court of Law; Making Decision; Criminal Proceedings; Criminal Cases; Judgment Phase; Forensic Investigation; Judicial Evidence; Scientific Evidence; Romania.
ORCID:

https://orcid.org/0000-0003-0932-9630
DOI: https://doi.org/10.31262/1339-5467/2022/10/1/36-49
URL: http://sei.iuridica.truni.sk/archive/2022/01/SEI-2022-01-Studies-Zarafiu-Andrei.pdf
Bibliografická citácia
ZARAFIU, A. Making Decision in Criminal Proceedings within a General Theory of Forensic Science in Romania. Societas et iurisprudentia [online]. 2022, roč. 10, č. 1, s. 36-49 [cit. 2020-01-01]. ISSN 1339-5467. Dostupné na: https://doi.org/10.31262/1339-5467/2022/10/1/36-49.