Úplný text príspevku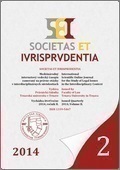 Čítať príspevok (PDF)
---
Typ dokumentu: časopis
Typ príspevku: štúdia
Jazyk príspevku: angličtina
Publikované: 30. 6. 2014
Formát súboru: PDF
Veľkosť súboru: 836 kB
Marta Matulčíková – Daniela Breveníková
In: Societas et iurisprudentia • 2014 • ročník 2 • číslo 2 • strany 114-132 • ISSN 1339-5467
Abstract: The paper deals with the importance of the properties that make up the structure of personality to an individual's long-term employability. The topic is a response to an enduring problem on the labour market in Slovakia, namely unemployment of university graduates as well as problems of keeping a continuous employment. The paper is a presentation of partial results of the research project KEGA 006EU-4/2013. The relevance of single personal properties (expressed in %) for their holders' employability is assessed by respondents from micro-enterprises, small and medium-sized enterprises. The intensity of separate social skills for their holders' employability is established on the basis of research results.
Key Words: Employability; Intellectual Property; Personality Property; Key Competences; Work Performance; the Slovak Republic.
URL: http://sei.iuridica.truni.sk/archive/2014/02/SEI-2014-02-Studies-Matulcikova-Marta-Brevenikova-Daniela.pdf
Bibliografická citácia
MATULČÍKOVÁ, M. a D. BREVENÍKOVÁ. Structure of Personality Properties and Its Contribution to Long-Term Employability. Societas et iurisprudentia [online]. 2014, roč. 2, č. 2, s. 114-132 [cit. 2020-01-01]. ISSN 1339-5467. Dostupné na: http://sei.iuridica.truni.sk/medzinarodny-vedecky-casopis/archiv/cislo-2014-02/structure-of-personality-properties-and-its-contribution-to-long-term-employability/.