Úplný text príspevku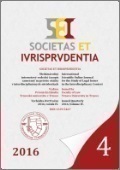 Čítať príspevok (PDF)
---
Typ dokumentu: časopis
Typ príspevku: štúdia
Jazyk príspevku: angličtina
Publikované: 31. 12. 2016
Formát súboru: PDF
Veľkosť súboru: 661 kB
Helena Barancová
In: Societas et iurisprudentia • 2016 • ročník 4 • číslo 4 • strany 23-42 • ISSN 1339-5467
Abstract: The practice of recent years shows that employers often discriminate the candidates for employment not only in terms of gender, but also in terms of other reasons, in particular due to ethnicity or nationality, disability, sexual orientation, and recently mostly due to their age. This is, for example, a legal situation when the jobseeker has not yet concluded the employment contract with the employer and is applying for a job most often in a selection process. These pre-contractual relations within the labour law can be regarded as labour relations for which there is also applied the prohibition of discrimination which is also binding throughout the duration of employment relationships. In the Slovak judicial practice, there are not many anti-discrimination actions with regard to the breach of the prohibition of discrimination in the recruitment process. The employer who in refusing a job applicant justifies his/her rejection by other reasons, for example by lack of job skills or other qualifications, also contributes to this condition with such behaviour. In recent years, the European Court of Justice has taken interesting decisions relating to non-discrimination in access to employment. The European Court of Justice partly addressed the right of the refused jobseeker to have the opportunity to look into the personal files of other jobseekers.
Key Words: European Court of Justice; European Court of Justice Case Law; Labour Law; Directive 2006/54/EC; Directive 2000/78/EC; Directive 2000/43/EC; Discrimination; Pre-contractual Relations; Nationality; Religion and Belief; Sex; Age; Disability; Ethnicity; Sexual Orientation; Selection Procedures; Penalties for Breach of Prohibition of Discrimination; the European Union.
URL: http://sei.iuridica.truni.sk/archive/2016/04/SEI-2016-04-Studies-Barancova-Helena.pdf
Bibliografická citácia
BARANCOVÁ, H. Discrimination in Pre-contractual Relations within the Labour Law according to the Current European Court of Justice Case Law. Societas et iurisprudentia [online]. 2016, roč. 4, č. 4, s. 23-42 [cit. 2020-01-01]. ISSN 1339-5467. Dostupné na: http://sei.iuridica.truni.sk/medzinarodny-vedecky-casopis/archiv/cislo-2016-04/discrimination-in-pre-contractual-relations-within-the-labour-law-according-to-the-current-european-court-of-justice-case-law/.