Úplný text príspevku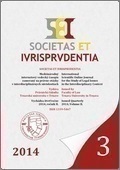 Čítať príspevok (PDF)
---
Typ dokumentu: časopis
Typ príspevku: štúdia
Jazyk príspevku: angličtina
Publikované: 30. 9. 2014
Formát súboru: PDF
Veľkosť súboru: 606 kB
Martin Andrejčák
In: Societas et iurisprudentia • 2014 • ročník 2 • číslo 3 • strany 154-162 • ISSN 1339-5467
Abstract: The issues of acquisition, selection, management, and human resources management are among the more resonating problems in theory as well as practice. Especially in the currently developed financial and economic crisis one of the most important tasks of management of enterprises/companies is to have "good human resource management", which is a source of information about the human capital resources not only in terms of the potential the individuals/employees have, or as whole working groups/teams, but especially in terms of the quality of the processes that exploit this potential, either contribute to it or vice versa – to cause the loss of it. This paper describes the situations when the personnel audit is used as well as provides partial results of the conducted monitoring. This paper was created within the project VEGA 1/0053/2012.
Key Words: Personnel Audit; Human Capital; Acquisition; Human Potential.
URL: http://sei.iuridica.truni.sk/archive/2014/03/SEI-2014-03-Studies-Andrejcak-Martin.pdf
Bibliografická citácia
ANDREJČÁK, M. Situations When the Personnel Audit Is Used in the Company. Societas et iurisprudentia [online]. 2014, roč. 2, č. 3, s. 154-162 [cit. 2020-01-01]. ISSN 1339-5467. Dostupné na: http://sei.iuridica.truni.sk/medzinarodny-vedecky-casopis/archiv/cislo-2014-03/situations-when-the-personnel-audit-is-used-in-the-company/.